I started as a Community Liaison in Yonkers which opened many connections and showed the needs of our City. I saw how homelessness was rampant and as I met some of the population, I was moved to do more. It began with a closing of a shelter. From engaging in the community, I felt God calling me into full time ministry to care for, support and aid the homeless in Yonkers. I shared this calling with my pastor and he was supportive until he realized that my work entailed teaching and preaching to the homeless, who were all men. It was a time of conflict for me, as I wrestled between listening to my pastor and listening to what I understood the Holy Spirit nudging me to do in faith. After much prayer, discerning with a few trusted friends and seeking God's will with my daughter Kimberly, I surrendered everything to God. I quit my job and have been walking in faith, weekly connecting with the homeless in Yonkers.
The homeless became my church. I lead Bible study with the men in the local public library or the YMCA; visit the recently incarcerated in prison; and lead worship service. We already had our first baptism in March. There are times I feel alone, but God reminds me how He has provided – with mentoring from Pastor Kenny Auyeung who leads D15:4 (a homeless outreach ministry in NYC), attending a church planting series with May Lee of WOW! and other church planters and partnering with local community organizations to service the homelessness. I am seeing how God has already planted His workers all over Yonkers to collaborate and make a real impact. The men are coming. They are hungry for God's word and thirsty for His kingdom.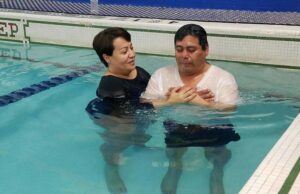 I did grieve over the loss of my former church community from the decision I made, I trusted God to provide. As the outreach continued, I've gotten to know many of the homeless men in the neighborhood. They are open to share about their lives and how they've come to their predicament. They all want to change, but they're still in bondage. As long as they come every week, I am hopeful. I have already seen a few of the men breaking free slowly from drunkenness and other addictions. They're beginning to get cleaned up and trying to get sober about life.
What is still challenging is that I need a team to work with me. I'm thankful for the collaboration with the local shelter, the YMCA and the Yonkers Public Library, but I want to ask God for more. I am dreaming for a church building space, for co-laborers in the ministry and more finances to support the changes toward a better Yonkers. I believe God can and God will.
~ Lourdes